Prevent your ceiling from being the embarrassment of your home. After treating your walls, floor, and furniture, your ceiling re-do can add the final touches to creating a sensational living environment.
sallywheatinteriors.com gathered the following ceiling ideas to inspire you in creating a charming and enhanced living space.
Ceiling Ideas
First things first, look up. Likely, you have a standard white or off-white ceiling with "popcorn" texturing. If you plan to suspend fabrics or tiles from your ceiling, you can get away with leaving the popcorn where it's at. Now, if you decide to add texture, stripe, or entirely change the ceiling's color, this is your chance to rid yourself of that hideous popcorn ceiling. Here's how to remove popcorn texturing:
Lay a drop cloth over your flooring and cover your furniture
Spray or mist the ceiling with water in 3-foot by 3-foot sections (don't use too much water, or you'll damage the sheetrock). Let it soak in for about 10 minutes
Using protective eyewear and a mask, use a 6 to 8-inch scraper to peel the popcorn from the roof
Move on to the next section, increasing or reducing the amount of water sprayed on the ceiling
After removing the popcorn and allowing the ceiling to completely dry, sand any residual material flat and reapply any drywall tape damaged in the removal process
Now that you have a fresh surface to work with, you can start your ceiling's transformation.
Ceiling Ideas with Wood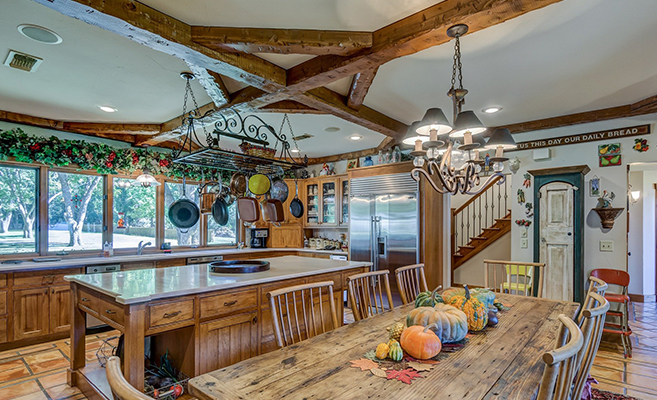 Whether it's painted, stained, or left in its natural state, wood almost always enhances the appearance of your ceiling. Sometimes, the wood is purely decorative; other times, it is part of the space's support structure. Consider these ideas for wood on your ceiling:
Highlight existing support beams
Install wood trim or borders
Install paneling (make sure wood paneling is well-supported, it can get very heavy and you need to understand roof load)
Tip: Use the space between beams to apply wallpaper, different shades of the primary color used in the room, etc.
Ceiling Ideas with Skylights
Besides allowing incredible amounts of natural sun or moonlight into your home, skylights also allow for a myriad of ceiling options:
Paint or treat the trim around the skylights to match or enhance other features in the room
Hang tapestries or fabric to soften the light and atmosphere
Paint the ceiling in contrasting colors around the skylights
Tip: Before hanging fabrics, placing furniture, or putting up portraits and images, trace the sun's path through the room. Once you know where the sun will be, you can determine how to treat your ceiling to provide maximum comfort in the room and exposure to its features.
Ceiling Ideas with Crown Molding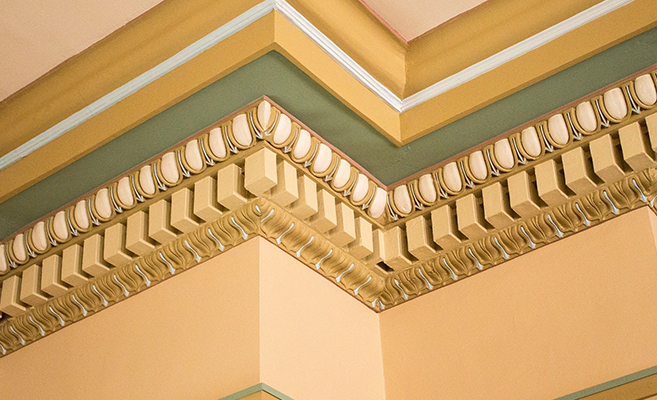 Crown molding naturally highlights the connection of your walls to your ceiling and adds a sense of depth to it. The following are options that enhance your crown molding:
Paint your ceiling a darker shade than your walls to give a sense of depth
Paint your crown molding a darker shade than your walls to make the division sharper
Use color and design to turn your crown molding into an ornate conversation piece
While it is common for crown molding to be installed white, manufacturers can deliver custom colors, along with custom sizes and designs. See this link for more crown molding designs and inspiration.
Ceiling Ideas with Wallpaper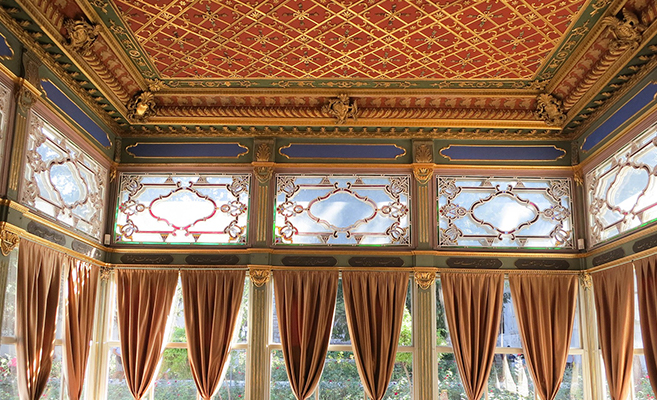 Wallpaper (ceiling paper) comes in a wide variety of colors, patterns, and textures. You can completely transform a room with an overhead overhaul that is easy to apply. Consider the following:
Apply wallpaper between support beams
Use designs and colors that complement furniture and fixtures
Apply the same wallpaper used on walls to provide continuity
Wallpaper is one of the simplest ways to add patterns and designs to your ceiling.
Ceiling Ideas with Hanging Objects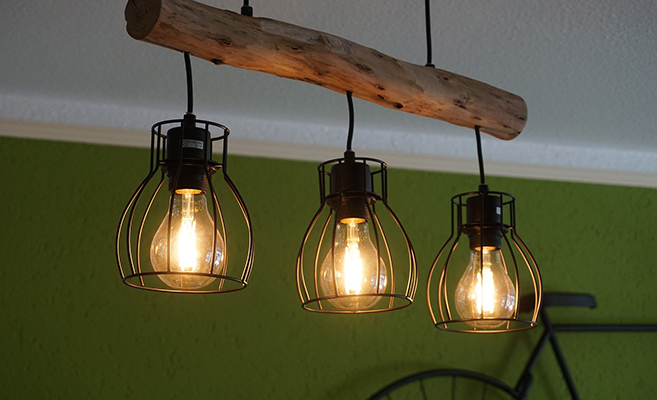 Hanging light fixtures, swinging chairs, heavy plants, etc., is nearly always a great idea. However, these are some things to ask before drilling into your ceiling:
Is there a stud or support beam that can handle the weight of what you plan to suspend?
Are your ceiling and roof able to support this added weight?
Do I need to reroute any wiring before anchoring my object(s)?
Tip: Consult a professional roofing company to understand how this may affect your ceiling's stability.
Ceiling Ideas with Art Concepts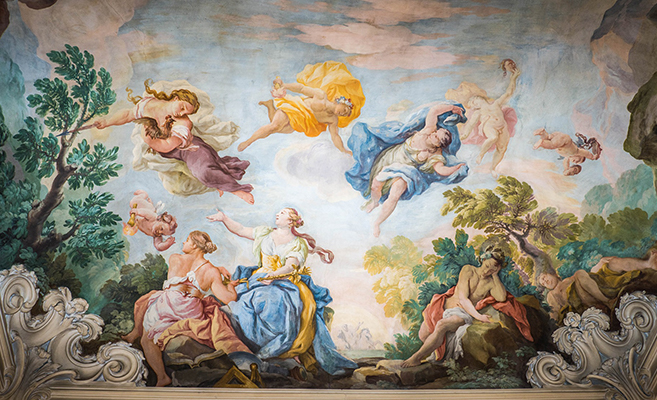 Ceiling art is not a new idea. It is, however, an often overlooked option to make your ceiling a showpiece.
In days past, hours, days, weeks, months, and years could be spent lying on scaffolding while painting detailed artwork piece by piece. Nowadays, stencils and transfers can be used to recreate some of the most famous ceiling art ever produced.
Ceiling Ideas with Fabric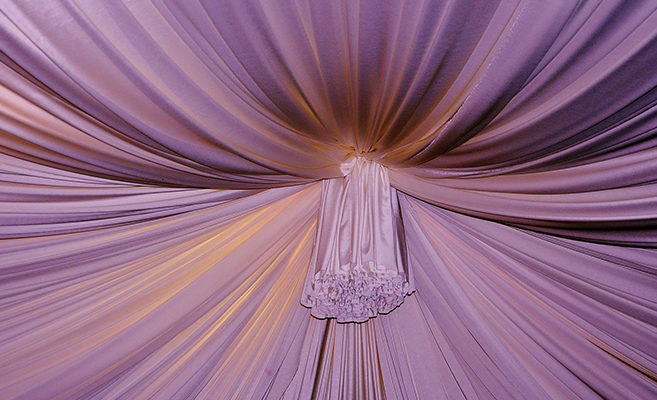 Tapestries and/or fabrics can be hung from your ceiling to divert light, divide spaces, or create a flowing, more gentile atmosphere.
Ceiling Ideas with Three-Dimensional Installations and Light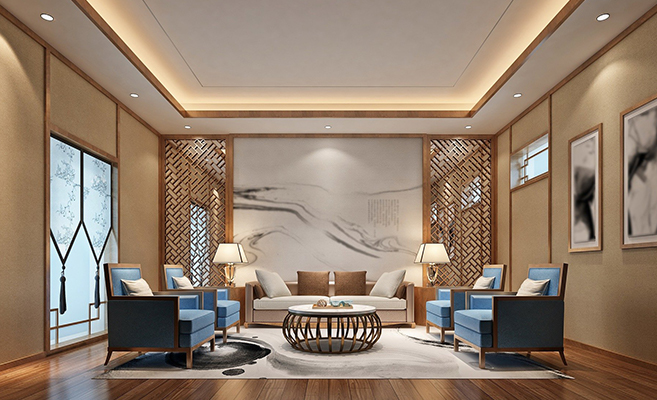 Install a 10 to 12-inch dropped border around the ceiling to add depth. The following will help you highlight this concept:
Install recessed lights that highlight paintings, wall-art, and/or windows
Install lighting between the border and the ceiling to provide indirect soft lighting
Use wooden or painted trim that highlights furniture or wall decor
Note: If you have or will install crown molding, leave a 6-inch gap between the ceiling and the molding, then add your indirect lighting atop the molding.
Tip: Install dimmers on direct and indirect lighting fixtures to adjust the ambiance of the space.
Ceiling Ideas with Paint and Texture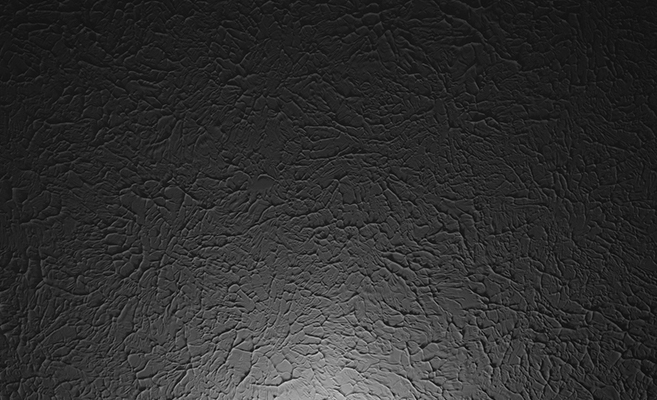 A ceiling painted with a dark, bright, contrasting, or complementing color can provide a sense of depth to your room. Adding a slight texture to your ceiling will help capture light and cast subtle shadows along the ceiling.
Ceiling Design
In this article, you discovered easy tips and ideas to help you create a renewed, fresh, and enhanced living space.
By updating your ceiling, you can give your space a refreshed look and create a hot topic for discussion with your family and visitors.
When remodeling your home, ignoring your ceiling can leave your efforts looking dated, feeling unfinished, and causing unwanted embarrassment.